The 50 Cent Economy. The Untold Stories of The American Dream
About Course
How 50 Cent's Unconventional Marketing Techniques and product creation skills generated over $14 Billion in realized value.
At Owners Illustrated Magazine, we have spent the past 18 years covering the economic impact of Hip-Hop culture.
50 Cent graced our Premier Issue in 2003, and since then, he has become a value-creating machine. From 2002 till 2020, 50 Cent has created over $14 Billion in realized value. How he has done this is an untold story of the American Dream. His tale spans surviving an assassination attempt to being integral to multibillion-dollar acquisitions by several publicly traded companies like Lionsgate, Adidas, and Coca-Cola. The diversity of these industries speaks to his economic and cultural impact, product creation skills, and marketing prowess.
THE 50 CENT'S ECONOMY
50 Cent created over $14 billion in realized value through several creative means.
As Billboard stated recently in regards to a Nielsen report, "R&B/HIP-HOP IS KING: R&B/hip-hop music continued to dominate all other genres in terms of consumption, as it did in 2018. In 2019, the genre represented 27.4% of album equivalent audio consumption – the largest of any genre."
Most would acknowledge the cultural phenomenon of hip-hop but how about its economic contributions?
This class features videos from a course lecture given at the Swartz Center for Entrepreneurship Carnegie Mellon University. Instructor and course creator Damola Idowu presents the lecture.
Show More
What Will You Learn?
Business Development

Marketing

Growth Strategies

Consumer product development and creation

Hip-Hop Economics

Product Distribution

Gamification

Social Media Marketing
Course Content
Week 1- Introduction to the world of Hip Hop and Business.

To say 50 Cent has been an American Icon would be an understatement. Conjuring up his name paints the image of his survival of 9 shots wearing a bulletproof vest and being signed to Dr. Dre and Eminem. What if I told you he had a much larger impact economically? 50 Cent has impacted businesses in a wide range of industries to the tune of over $14 Billion in realized value. His economic impact is vast and diverse, and most people probably won't connect the dots, so I sought to write this book. Since 2002, I have been covering 50 Cent and I have been doing it comprehensively. Having interviewed him several times, I have also interviewed his partners, managers, recording artists, and employees.
50 Cent Enterprises Assignment

Class Project Assignment

50 Cent's economic impact
Week 2-TV AND FILM

50 Cent appears as an actor in several movies that combine to generate over $500 million at the box office. As a TV producer, 50 Cent created several shows and most notable is Power for the Starz network. The Starz network will be sold to Lionsgate (LGF.A) for $4.4 billion with a bid of $5 billion submitted by the parent company of Power co-producer, CBS Television, CBS (CBS). Lionsgate (LGF.A) will decline the offer with a $5.5 billion response.Power is the most-watched show in the history of the Starz network.
Week 3 FOOTWEAR

50 Cent would partner with Reebok on a five-year deal in 2003. He would sell over four million pairs of shoes. 50 Cent claimed compensation of over $80 million. Reebok will be sold to Adidas (ADDYY) for $3.8 billion in 2005. G-Unit shoes were a huge source of revenue for Reebok at the time.
Week 4 BEVERAGE INDUSTRY

50 Cent had several deals and products sold in the beverage industry. Most notable of his products was his enhanced water venture, Vitamin Water. Energy Brands producer, Vitamin Water would be sold to Coca-Cola (KO) in 2007 for $4.1 billion. 50 Cent was an equity holding endorser of the brand who boosted awareness through several channels.
Week 5 ENERGY SHOTS

50 Cent will create SK Energy Shots with famed social entrepreneur, Chris Clarke of Pure Growth Partners. They were partnered with athletes like Colin Kaepernick and companies like Marvel. They will work with the United Nations World Food Program and donate over 3.5 million meals from the sales of SK.
Week 6 SPIRITS INDUSTRY

50 Cent partners with Beam Suntory for the marketing of their EFFEN vodka brand. 50 Cent would double sales in a year. He claimed to be paid $60 million on his exit from the arrangement. 50 Cent will create his own spirits company, Sire Spirits, to distribute his own champagne and cognac.
Week 7 VIDEO GAMES

50 Cent will produce 3 video games and sell millions of copies. His video game venture generated over $120 million of revenue. Also, notable from his video game ventures were highly integrated marketing for his other ventures. Most notably was his gamification of Vitamin Water. That strategy helped in the over $4 billion exit.
Week 8 FASHION

50 Cent will create two clothing lines under his G-Unit brand. 50 Cent created both a women's and men's line of clothing. Sales of his clothing line exceeded over $200 million during his partnership with Ecko Enterprises. At the peak of their arrangement, G-Unit was accounting for 15 percent of the over $1 billion in sales Ecko was generating.
Week 9 JEWELRY.

50 Cent with dabbling in the jewelry game and creating a luxury line of watches with famed Manhattan New York jeweler Jacob & Co.
Week 10 SOCIAL MEDIA.

50 Cent will have a significant impact on the value of social media companies. 50 Cent has over 11 million followers on Twitter and over 25 million followers on Instagram. Both platforms primarily make their revenue from advertising. Twitter made over $3 billion in 2019 and Instagram made over $20 billion in 2019. 50 Cent has over 3,000 posts on Instagram. He also uses the platforms to generate value for Spirits companies and his TV and Film ventures.
Week 11 BOOKS AND PUBLISHING

50 Cent is a New York Times bestseller author, and he also publishes other authors through his Simon and Schuster imprint G-Unit books.
Week 12 AUTOMOBILE INDUSTRY

Beyond his extensive collection of luxury cars, 50 Cent would be partnering with GM. His partnership was with its Pontiac division and was a wide-reaching initiative. He will create custom edition Pontiac's, and will be involved in the release of an all-new G8 based pickup. Pontiac will also sponsor concerts and integrate 50 Cent in their advertising.
Week 13 TECHNOLOGY AND CONSUMER ELECTRONICS

50 Cent was also a technologist and founded a hardware company, SMS Audio. The company was the exclusive provider for Disney (DIS) resorts and parks. SMS Audio would also produce headphones for Marvel and Star Wars Brands. SMS will also play in the health and fitness space. Partner Intel (INTC) provided biometrics technology and heart rate monitors for integration into their products. 50 Cent would also partner with Reebok again for a sports and fitness inspired headphone line.
Week 14 MUSIC

50 Cent created marketing efforts that built his G-Unit brand through alternative distribution channels. This approach created a bidding war for his music in excess of $1 million before he was signed with Dr. Dre and Eminem. He would sign with them in 2002 for $1 million. Since 2002, 50 Cent and his G-Unit artist have sold over 40 million records worldwide. He will launch the multi-platinum career of artists like The Game and Lloyd Banks. Revenue for music sales alone exceeded over $450 million. From 2002, 50 Cent would also have a lucrative live performance career. His concerts generated over $71 million of revenue. 50 Cent also made millions from music publishing and other ancillary income like ringtones.
Week 15 Class Project Presentations

Combining all of the industries we have studied in this class, you get over 14 billion dollars in realized value by 50 Cent. Students have to create a mock product in one of the aforementioned industries and use lessons learned from 50 Cent's marketing techniques to do a product marketing strategy. Students will present their final product as a project. Students can work in teams.
Week 16. Final Exam

A cumulative exam on all the topics covered in class will be administered with students having to answer their questions in multiple formats.
Earn a certificate
Add this certificate to your resume to demonstrate your skills & increase your chances of getting noticed.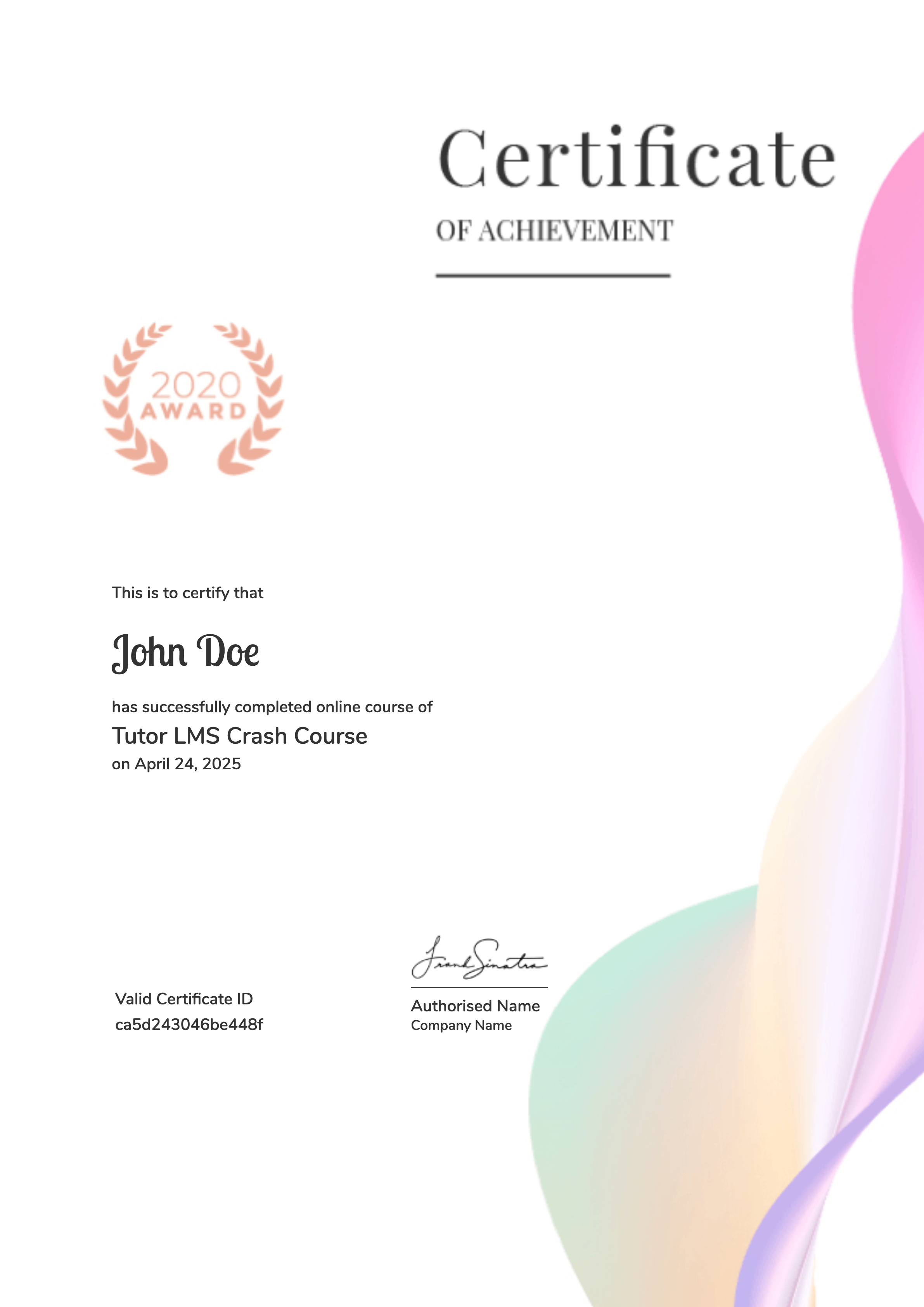 Student Ratings & Reviews
No Review Yet